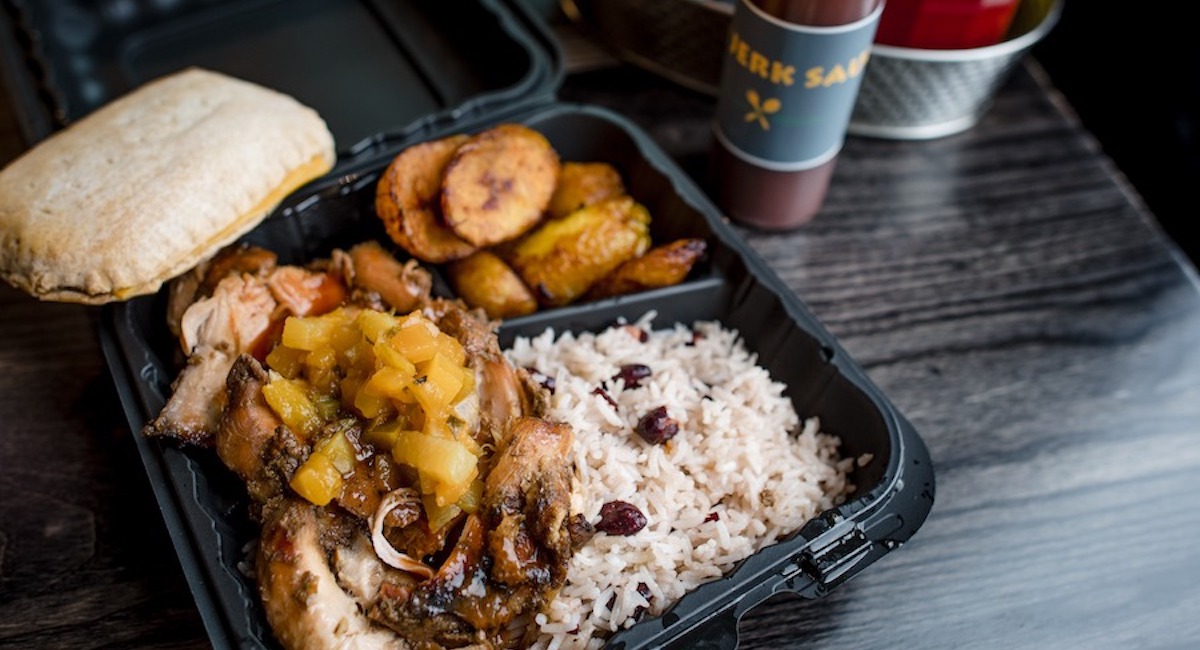 Where to find the best Jamaican food in Boston right now
Satisfy tropical flavors with heat seeking spices, warm hospitality, and refreshing, creative ice cream flavors.
If the spring weather makes you crave even warmer climates, seek out the tropical flavors at some of Boston's best Jamaican restaurants. You will find heat seeking spices, warm hospitality and in one place, delicious and creative ice cream flavors to freshen things up.
Blue mountain
One of Boston's newest Jamaican restaurants is already one of the best: Blue Mountain. The stunning location of Mattapan takes its name from the island's longest range of cloud-sweeping peaks, and it's open from sunrise to sunset. This means we can start the day with a breakfast of ackee and salt fish, Jamaica's national dish, then move on to dinners of stewed beef, curried goat cheese, barbecue chicken and more, all nicely spiced with scorpion pepper, ginger and other Jamaican-grown ingredients from the all-natural High Noon brand. Need to put out the flames? Turn to a tall, tangy drink of sorrel (Jamaican hibiscus) and ginger.
884 Morton St., Boston, 617-533-7255, bluemountainjamaicanrestaurant.com.
Country kitchen
Put your claws in a box of 'drunken crab' at this Dorchester destination, where popular shellfish paws are served in a peppery sauce on certain days of the week (and are known to sell). That said, there are plenty of other home-style home-style dishes to satisfy, including the rich and aromatic brown stewed chicken and a delicious whole escovitch baked with snapper: fried, then dipped in a marinated sauce.
838 Blue Hill Ave., Boston, 617-822-0500, bostoncountrykitchen.com.
Flames
It's usually hard to find sequels that live up to the original. But somehow Flames, a Boston-born, quick and casual mini-chain of Jamaican restaurants, has managed to grow while maintaining consistent quality. You can now find its vibrant curry stews, jerk chicken, roti, and other menu standards in three parts of Boston (Mattapan, Mission Hill, and Dorchester), as well as Brockton, Mass. and Providence, Rhode Island. Here's an exciting bonus coming soon: Flames' last location is just down the street from the future Brockton Beer Company auction house. So now you'll know where to eat after purchasing a few packs of four exciting craft beer maker, one of the few black-owned breweries in Massachusetts.
663 Morton Street, Boston, 617-296-4972; 764 Huntington Avenue, Boston, 617-734-1911; 469 Blue Hill Ave., Boston, 617-989-0000, 806 Main St., Brockton, 508-510-5608, flamesjamaicanrestaurants.com.
Jamaican style restaurant Irie
Its name refers to a patois term for feeling happy and good – and that's exactly the vibe this Dorchester mainstay offers. The serving space at the counter will likely have some reggae as you stroll around to try the jerk ribs and fish patties, Rasta pasta in a creamy shrimp sauce, and platters of tender oxtail with plantains, rice and steamed vegetables. There's quite a bit of seafood here, including a few options for conch: sea snails served in curry or sautéed.
855 Washington St., Boston (Dorchester), 617-929-3866; iriejamaicanstylerestaurant.net.
Jamaica Mi Hungry
Jamaica Mi Hungry may have won last year's Best of Boston award for its food truck, but Chef Ernie Campbell's savory operation certainly delivers the goods at his brick and mortar restaurants in Jamaica Plain and Allston. , where it opened last year as a long-term popup in Zone 3. This group of retail spaces, public art installations, and (in non-pandemic times) event spaces outdoors launched by Harvard is a great place to hang out while enjoying Campbell's sandwiches of jerk pulled pork or ground chicken, spicy ribs and stellar sides, including thick, creamy mounds of mac and cheese.
225 Center St., Boston, 617-708-0465; 128 Western Ave., Boston, 617-903-4559, jamaicamihungry.com.
One Jamaican Restaurant
Not to nitpick, but the name isn't quite accurate: there is actually more than one Only One restaurant. Either way, we don't think you'll be stuck on this detail once you try the Singular Pea Stew, Pineapple Chicken, and Jamaican Beef Patties Wrapped in Bread. soft coconut. Particularly generous portions aren't the only reason the place stands out, but it sure doesn't hurt.
160 Norfolk St., Boston (Dorchester), 617-822-0444; 310 Bowdoin St., Boston (Dorchester); 1345 Hyde Park Ave., Boston (Hyde Park), 617-360-7387; 192 Warren Ave., Brockton, 508-587-8770, onlyonerestaurant.com.
P&R
You'll find a fairly wide variety of Jamaican-inspired dishes here, ranging from lighter options – for example, super fresh jerk chicken salad with avocado – to heavier dishes: fried chicken wings with waffles. and Fried Oreos have a shared menu space here. What really sets the place apart is its selection of ice cream. Cake batter, chewing gum, and buttery pecans are among the indulgent flavors ready to be picked up on a hot summer day (or any other time, for that matter).
1284 Blue Hill Ave., Boston (Mattapan), 617-296-0922; 208 Dudley St., Boston (Roxbury), 617-442-2020, eatpandr.com.
Taste of Eden
Heavenly flavors abound here, whether you come for breakfast (try the generously spiced callaloo of steamed leafy vegetables), lunch, or dinner; plantain dumplings, fried cod and jerk chicken specialties are delicious anytime. But Eden deserves a special note for her generous vegetarian selection – see the orange and ginger "chicken" made with tofu – and churning juice bar smoothies made with mango, cantaloupe, sorrel, sea ​​foam and more.
38 Norfolk St., Boston, 617-282-0077, tasteofedenjamaican.net.
---