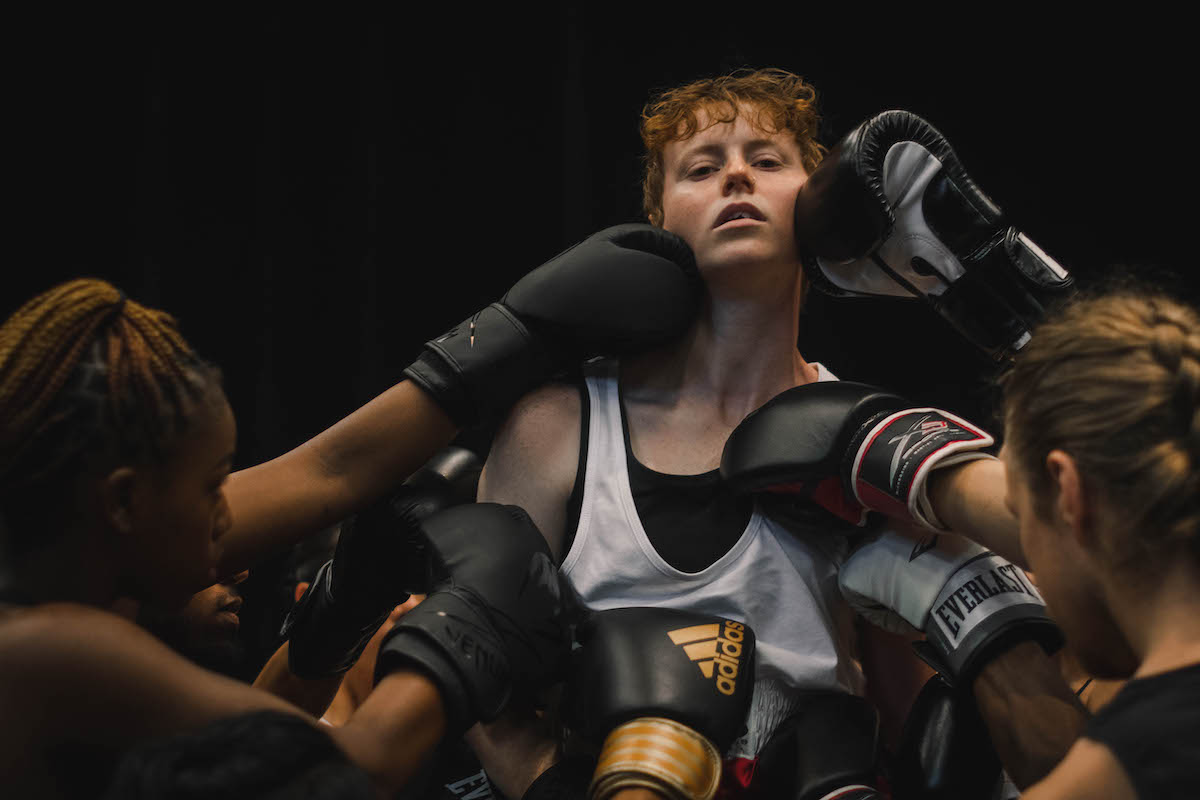 September brings movies, museum programs and more for art lovers
As students return to the classroom, Emory picks up the pace in September with a new season of exciting arts events for the campus community and general public. From film screenings and dance performances to quartet concerts and guest artist talks, there's something for everyone.
Film
Emory Cinematheque returns for the fall semester with the "Federico Fellini: A Centenary Celebration" film series. Weekly screenings of Fellini's work begin August 30 and take place every Wednesday evening at 7:30 p.m. in White Hall 208. September screenings include "La Strada/The road" (1954) and "La Notti di Cabiria/Nights of Cabiria" (1957). One of the most acclaimed Italian filmmakers of the 20th century, Fellini worked as a screenwriter and director for 40 years. Four of his films have won best foreign film at the Oscars, and Fellini himself won a lifetime achievement award in 1993. If you're a movie buff or have an interest in classic movies, you won't you won't want to miss this series. All screenings are free and open to the public. This series is co-sponsored by the Michael C. Carlos Museum.
Dance
Dance meets martial arts in "metaphysicala dance party featuring works choreographed by Emory Dance faculty member Julio Medina and guest artist Nadya Zeitlin. Medina's work explores concepts of space, time and identity, using martial arts techniques to counter and heal attacks rooted in colonialism. Zeitlin's work is inspired by the unique architecture of the Atlanta Central Library, designed in a brutalist style by Bauhaus architect Marcel Breuer. There will be two performances on Friday, September 9 and Saturday, September 10, both at 7:30 p.m. The performances take place at the dance studio at the Schwartz Center for Performing Arts and tickets are on sale now.
Michael C. Carlos Museum
Visits to the Carlos Museum are even more fun with family programming like Sunday parties (Sept. 4) or afternoon tea and scones at AntiquiTEA (Tuesday September 6). On Friday, September 9, Emory students are invited to Student workshop to create their own clay pot inspired by the large ceramic water vessel from the African galleries of the Makonde people of Mozambique. Admission is free and first come, first served, while supplies last.
In conjunction with "Making an Impression: The Art and Craft of Ancient Engraved Gemstones", Jonathan Master, Associate Professor of Classics, will take readers through two evenings (Monday, September 12, and Monday, September 19, at 7:30 p.m.) of discussion around a series of short texts that situate the jewels in the wider Roman discourse of wealth and luxury. This Carlos reads The series will explore the corrosive effects of Rome's immense wealth as well as the human cost of precious stones. Places are limited and registration is required by calling 404 727-6118. The two-part series is $40 for Carlos Museum members and $60 for non-members.
On Thursday, September 15 at 7:30 p.m., Chase Kahwinhut Earles discusses his decades-long effort to help revive, master, and honor the age-old traditions of Caddo pottery in order to establish a path forward as a contemporary artist and to develop a modern narrative. This conference, entitledCaddo Ceramic Traditions and Trajectories,is presented in collaboration with Atlanta Beltline's Art on the Beltline project.
Earles will also lead a ceramic workshop for adults Sunday, September 17, from 10 a.m. Held in conjunction with Atlanta Beltline's Art on the Beltline Project, the workshop is $120 for Carlos Museum members and $150 for non-members. Places are limited and registration is compulsory.
In other family activities, children of all ages can engage with art at the Carlos Museum on Saturday, September 17 at 2 p.m. during clever stories (3-6 years old) and Sunday, Sept. 18 at Children's workshop (8-12 years old). Artful Stories invites children accompanied by an adult to explore the Art of the America galleries after hearing the story of a young girl's discovery of the shapes all around her in the book "Round Is a Tortilla: A Book of Shapes" by Roseanne Thong. Atlanta quilter Zachary Francois runs the Kuba Patterns and Shapes studio, drawing inspiration from the work of black artists from different cultures and eras. Registration is required for both events. They are each $20 for Carlos Museum members and $30 for non-members.
Music
The Emory Chamber Music Society of Atlanta launches its John and Linda Cooke midday series on Friday, September 9, in the Emerson Room of the Schwartz Center for Performing Arts. This free 12-hour concert features Emory's resident string quartet, the Vega Quartet, and pianist William Ransom performing Schumann's Piano Quintet and Gershwin's Rhapsody in Blue.
On Sunday, September 11, nationally acclaimed singer-pianist duo Bradley Howard (tenor and music faculty member) and Lee Thompson (piano) perform "Desire and illusion: a recital." This concert presents works such as "Dichterliebe" by Robert Schumann, "War Dreams" by John David Earnest and "Don Quixote" by Maurice Ravel. a Dulcinea. Free entry.
The Emory Chamber Music Society of Atlanta celebrates 30 years Saturday September 17, at 8 p.m. in the Emerson Concert Hall at the Schwartz Center for Performing Arts. The concert will feature Brahms' "Variations on a Theme of Haydn for 2 Pianos"; "String Quartet" by Ravel; Barber's glorious "Adagio for Strings" and Mendelssohn's irrepressible "Octet for Strings".
The 20th anniversary of the Flora Glenn Candler Concert Series opens Friday, September 23 with the Atlanta premiere of a collaboration between composer Richard Danielpour and former American Poet Laureate Rita Dove, "A permanent witness." Written for the Music from Copland House ensemble and world-renowned mezzo soprano Susan Graham, this cycle of epic songs includes an extensive retrospective of defining events in American history over the past half-century. Tickets are on sale now.
creative writing
Emory's Creative Writing Department launches its reading series for the 2022-2023 academic year with renowned prose writer, Jamaica Kincaid. On Monday, September 19, Kinkaid delivers the Phyllis Wheatley Reading at 6:30 p.m. (location to be announced). Earlier today, at 1:30 p.m., there will be a colloquium at the Kemp Malone Library (N301 Callaway). The event is co-sponsored by the Department of African American Studies.