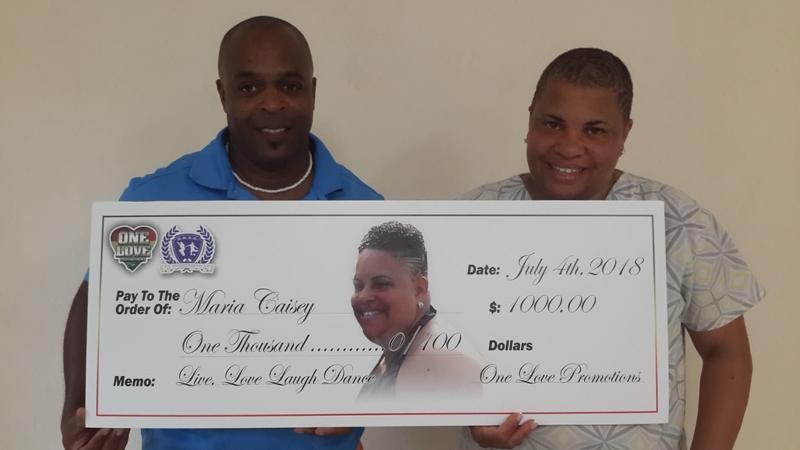 Reggae Dance raises $ 1,000 for medical bills
July 22, 2018
One Love Promotions, in collaboration with the Southampton Rangers Sports Club, organized an 'old school reggae' fundraising dance to help Ms Maria Caisey with her medical bills as she battles a rare form of cancer.
The event has been called; Live, Love & Laugh and took place at the sports club at the end of May, and the $ 1,000 that was raised was recently given to her sister.
Many of Bermuda's top DJs have given generously of their time to the cause. The group consisted of: Maria's son – DJ Jim Brown, Maria's brother – DjJ Jules, Maria's cousin – DJ Donnie, as well as long-time favorite sounds – Jones Town International, OGS Genesis, Desert Eagle and special guest DJs – Lava Rock [JA] & Dj Kyle [Boston]
"Everyone who came and supported the event had a great time dancing, singing and partying until the early hours of the morning," organizers said.
"One Love Promotions would like to especially thank 'No Problem Kitchen' [Roose Hall, Craig Hall & Howard Tucker] who cooked the barbecue chicken and ribs and 'Genny's Kitchen' [Nurse of the Year] for the rest of the food on the menu.
The dance raised $ 1,000 for Maria and the check was presented to her sister Ms. Damina Caisey by Mr. Jamal Hart of One Love Promotions.

Learn more about
Category: All, Entertainment, Music, News