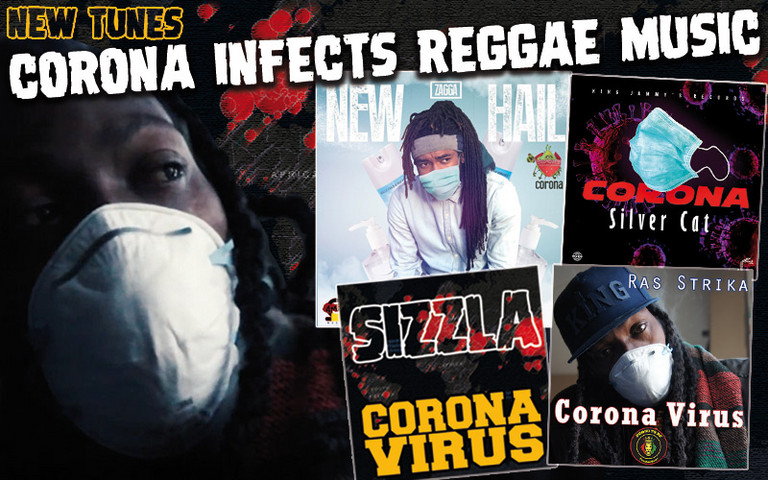 New Tunes – Corona infects reggae music
New Tunes – Corona infects reggae music
04/06/2020 by Gardy Stein
One of the countless reasons we love Reggae and Dancehall so much is because of its incredible timeliness, its quick reaction to world incidents. To our knowledge, no other genre can claim to bring so many songs on topics that move the world, be it donald trump, the refugee crisis or genetically modified foods. And now – Crown! The virus that keeps all countries in a fearmongering grip has now infected at least four reggae songs.
Probably the first to draw musical attention to the virus and its transmission was Zagga with his New hailan air that offers new ways to greet each other when meeting: "No lion's paw, no big finger, no fist, no thumb, no hug… New hail when you see me, New hail, extend your foot when you see me and a hail!The song was officially released on March 13 and has a proper video for you to watch.
The most recent track Coronavirus was released by Ras Strika on his YouTube channel. Says the artist:Corona, the deadly virus, has claimed victims all over the world. The dreaded virus spread rapidly and turned out to be the most dangerous. The virus that started in Wu-an, China inspired Ras Strika to write and record this song. Please protect your family, friends and especially yourself and remember to wash your hands."
Another piece called corona virus was contributed by Sizzla Kalonji on the famous Far Eastern Riddim. "It was a freestyle recorded to raise awareness. The riddim isn't ours, but we like to make music to old school beats because it's true in our culture," the artist told The Jamaica Star. In the song, Sizzla calls for awareness of the spread of the virus and above all for cleanliness and prevention: "Dem a chat about Corona Virus about, better be careful, no better get it into your house (…) protect small children, don't put your hand in your mouth…"
Most elaborate, however, is the recording crown song on the Punanny Riddim. Warning: it is sung by a veteran Dancehall artist silver cat and NOT by buju banton, as some mistakenly claim on the web. Playing with a cunning metaphor of a girl called Crown, silver cat warns her friends not to come into close contact with her: "Corona looks at me but I don't want har so everyone sees him he says stay away". Hilarious!
It is rationality and prudence that we need to overcome the current crisis, but a little humor can also help. As public life becomes increasingly restricted in many areas (especially urban ones), artists and fans have to forego beloved parties and concerts – the time thus saved can be effectively used to spend with family. and loved ones, or for digging up long-abandoned projects in and around your home. But above all, stay safe and healthy, people!
UPDATE More Corona-related tracks and videos we discovered after this article was published:


LISTEN TO ALL THE MUSIC FROM THE PLAYLIST BELOW: