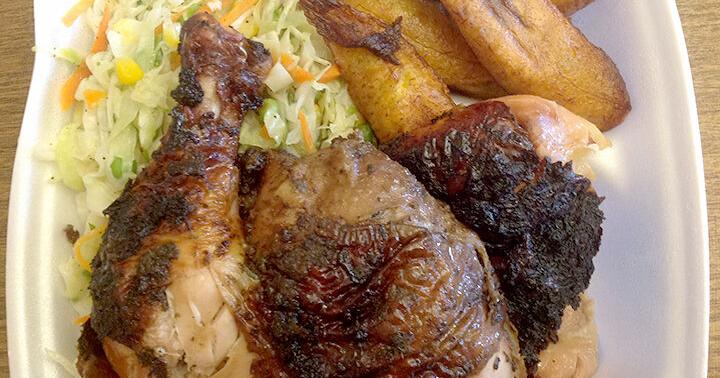 Island Breeze Jamaican Cuisine Will Blow Your Mind | Culture & Leisure
I've always had a fondness for Jamaican cuisine in my culinary heart, having honeymooned in Ocho Rios at the Jamaica Inn.
From patties (scotch bonnet chili ground meat pies and ackee (a fruit that, when ripe and sautéed, looks like scrambled eggs) with salt fish, to the incredibly aromatic dishes known as jerk pork and jerk chicken where the meat is marinated in a mixture of spices such as allspice, nutmeg, cinnamon and cloves as well as scotch bonnet peppers (also called red habaneros).
Only Carolina Reaper, Trinidad Scorpion, and Ghost Pepper provide a more sustained burn. Once the meat is marinated, it is grilled over green chili wood until it is blackened but not burnt.
The result is tender, smoky and highly aromatic meat with a distinct kick. Some of the best renditions can be found at the Pork Pit in Montego Bay and any roadside stand in Port Antonio, believed to be the origin of jerked meats.
I don't want to "jerk" you off, but it's a culinary high you can't get enough of. The level of spiciness can be controlled in some cases, but unless you're a seasoned Chilean chef, don't bite into a Scotch bonnet on your own. A little goes a long way. Most Island Breeze dishes are only moderately spicy
Island Breeze offers a varied menu of Jamaican specialties. Located in Colton on Mount Vernon Avenue, they are open for takeout, but incredibly quick to prepare any dish you order. We waited about 10 minutes for six items.
We started with galettes, an orange-colored pastry filled with finely chopped beef, chicken or spiced vegetables. Scotch bonnets are highlighted by the spicy/fruity aroma, but the heat just gives a nice glow to the back of the throat and of course the flavor is very aromatic given the spice profile. Not warm enough for you? Ask for a cup of sugar infused sauce with tiny bits of scotch bonnets.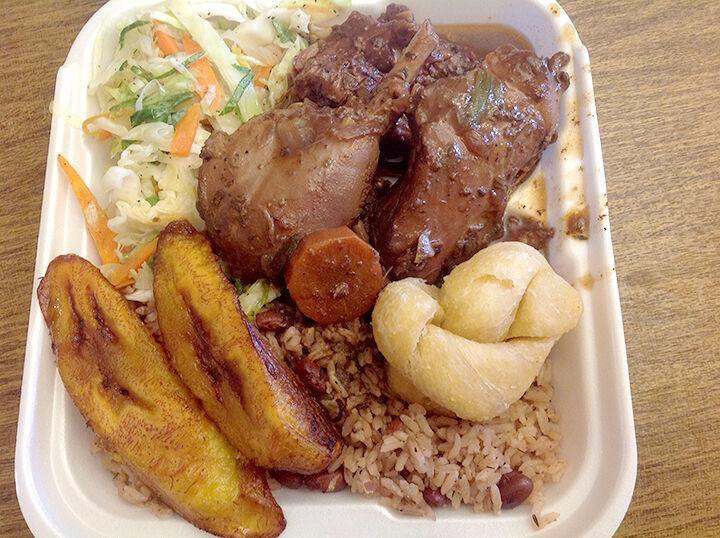 Brown stew chicken is also popular. It is the Tuesday lunch dish and includes a mixture of vegetables, rice and "peas" (small beans), fried sliced ​​sweet plantains and a festival (tied sweet bread). The sides tend to be starchy, which helps temper the spiciness of some dishes. The brown stewing chicken was bathed in a rich brown sauce that's more peppery than feisty, and the meat was tender.
High quality goat curry is hard to find, as more often than not it is tough and chewy. Not this interpretation.
The meat positively melts in the mouth, probably due to slow cooking and low heat. Beware, however, of the small pointed bones, good for dislodging pieces of goat meat stuck between the teeth.
Portions of each main course are extremely generous and all main courses can be ordered with two sides or a la carte.
Jerk chicken (pork not usually available) was literally half a ground chicken that had been marinated in jerk seasonings then grilled over an open flame until the skin was blackened, but not burned.
Jerk Marinade can be ordered separately for use as a dipping sauce. It brings a pleasant spiciness and contrasts with the richness of the meat. The spiciness is in the eye of the beholder.
Then came the oxtail — a dish I've often found wanting in the past, due to the scarcity of meat and excess fat. Their interpretation was unlike any I have encountered. Lots of rich, tender meat, and after a long render, there was minimal fat.
It is served bathed in a lush brown sauce with flavors of island spices. I sucked out every last bit of marrow from the bones.
Finish, if you have room, or even think you don't, with a piece of their Jamaican Dark Cake, dipped in spiced dark rum.
The cake is moist and oh so delicious. Follow it up with a tall glass of milk or a cup of Jamaica Blue Mountain coffee if you can find the beans. It's a perfect ending to a taste bud expanding experience.
Island Breeze Jamaican Cuisine
Or: 1063 S. Mt. Vernon Ave., Colton.
Hours: 11 a.m. to 6.30 p.m. Monday to Thursday, 11 a.m. to 7.30 p.m. Friday and Saturday.
Prices: Patties $3.25 each, à la carte (meat only) $8.50 to $12, lunch specials from 11 a.m. to 2 p.m. Monday to Friday $8.50 to $9.75, bowls served with rice and steamed peas and vegetables and chicken brown stew or chicken curry $5.99, fish starters and whole fish $10.50 to $22 (allow 45 minutes for preparation), combo plates with two sides 13.50 $ to $18.
Details: Meal preparation service, meal $50, 10 meals $95, 15 meals $140 with a weekly subscription. Catering also available.
For more information: ibjamaicancuisine.com or call (909) 514-0771.
David Cohen is the former co-host of the PBS show "Table for Two."